Why are we inflamed? Are we having an autoimmune epidemic? Can glymph defog my brain? Amanda chats with Dr. Heather Moday, MD, board-certified allergist, immunologist, integrative and functional medicine physician, and the author of The Immunotype Breakthrough. In their conversation, Dr. Moday talks through the immune system's relationship to inflammation, skin, gut, stress, lymph, depression, and sleep, plus tips on maintaining healthy immunity (hint: it's about balancing, not boosting).
Curious about a specific topic? Here's what they cover:
Balancing over boosting the immune system (00:20)

Daily care for the immune system (4:20)

Sleep and immunity (6:55)

Small daily habits (7:15)

Everything your immune system is involved with (8:35)

Immune system changes for pregnancy and postpartum (11:25)

Autoimmune 

Thyroid 

Postpartum depression 

Skin issues 

Hashimotos postpartum (14:20)

Stress and chronic inflammation loop (16:32)

Stress intervention and modulation (17:45)

Addiction to adrenaline and dopamine (22:05)

Meditation studies (23:25)

Surprising things linked to inflammation (27:45)

Inflammatory resolution (28:50)

Chronic inflammatory state (30:10)

Extreme wellness and hustle culture (30:55)

Sleep vs exercise (34:09)

Inflammaging (36:00) 

Senescent cells (37:30)

Dr. Moday's favorite antioxidants (39:40) 

Vitamin C absorption vs secretion (41:32)

What to supplement when drinking alcohol (42:47)

Effects of moderate drinking on the brain (46:00)

Lymphatic system (47:00)

Glymph (50:40)

Brain

fog,

depression, and inflammation (52:25)

Skin as part of immune system (55:30) 

Dendritic cells (56:45) 

Skin-based autoimmune (1:00:20)

Covid hair loss (1:01:20)

How inflammation affects fertility (1:04:15)

EBV (1:06:45)

The evolution of viruses (1:15:50)

What makes us have allergies (1:19:55) 

Can we get rid of allergies (1:24:00) 

How to set up kids for success (1:26:40)

Autoimmune antibodies (1:32:30)

Histamine intolerance (1:35:11)

Mitochondrial function related to energy (1:39:12)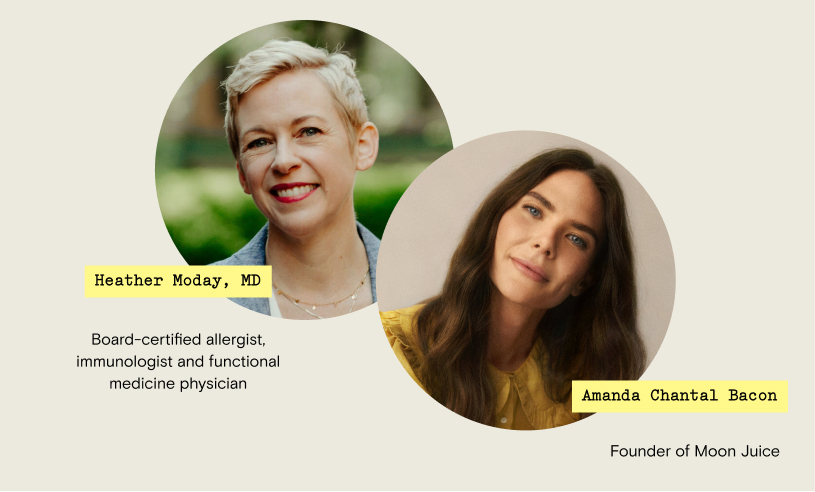 Watch the full interview here or listen below.
$10 off + free shipping
Unlock tips, tricks, recipes, and rituals