Amanda sits down with BJ Miller, MD, hospice and palliative care specialist, and founder of Mettle Health. They dive into ethical questions around death, what suffering actually means, how mothers can work through death panic, grief as a portal for difficult and beautiful feelings, and reframing struggle as a point of connection, rather than one of isolation.
Curious about a specific topic? Here's what they cover:
Amanda's relationship to death (2:20) 

Death and dying in the mainstream (6:00)

Abstraction to reality of death (8:00)

Hospice vs palliative care (10:20)

History of hospice (12:00)

History of palliative care (13:15)

Laws and bioethics around end of life (15:10)

You can always say no (18:00)

You don't have to wait to start palliative care (21:00)

Palliative care for mental health (24:45)

What is suffering (27:00)

Rites and rituals (32:20)

Suicidal thoughts (35:00)

Varanasi (40:00)

We can't separate beauty and terror (45:00)

Death is inside of us (47:30)

Grief (49:15)

Death panic for new mothers (54:10)

The goal is not to stop fearing death (57:20)

Mothers being able to let go (1:01:15)

There is no recipe for a peaceful death (1:04:05)

Drop the death goals (1:08:00)

Managing other people's experiences (1:11:00)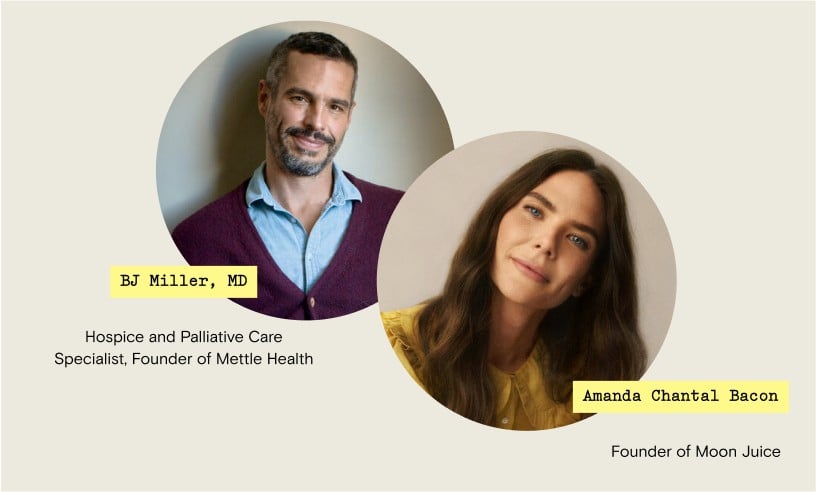 Watch the full interview here or listen below.
$10 off + free shipping
Unlock tips, tricks, recipes, and rituals