What's the deal with neuroinflammation? Why should we avoid seed oils? What are the long-term side effects of SSRIs? Amanda chats with Uma Naidoo, MD, nutritional psychiatrist and author of This is Your Brain on Food. They dive into the relationship between veganism and depression, impact of Covid on the brain, and preventative measures for healthy cognitive aging.
Curious about a specific topic? Here's what they cover:
Female exclusion in research (1:00) 

Neuroinflammation (2:50)

Vagus nerve (3:40)

Leaky gut + neuroinflammation connection (4:45) 

Top 4 inflammatory things for your gut (6:10) 

Honey and maple syrup (7:30)

262 names for sugar on food labels (9:10) 

Seed oils (9:40)

Alcohol (11:00)

Neurotransmitters (13:40)

Serotonin and the gut-brain axis (14:40)

Does supplementation work (17:00)

Exogenous vs endogenous neurotransmitters (18:15)

Hydration for the brain (21:05) 

Ayurvedic care for the brain (22:30) 

Sun without sunscreen (24:10) 

Sleep and circadian rhythm (27:30)

SSRIs for depression (30:50)

Long-term side effects of SSRI (32:25) 

Long covid and brain fog (37:30)

Study of brain changes from the pandemic (38:30)

Why Covid changed the brain (40:00)

Supplements for brain fog (40:30)

Veganism and depression (42:20) 

Supplements for vegans (43:45)

How neuroinflammation can lead to cognitive disease (46:00)

Foods for the mind (48:00) 

Does weed affect the brain (50:10) 

Biggest breakthroughs in psychiatry right now (52:40)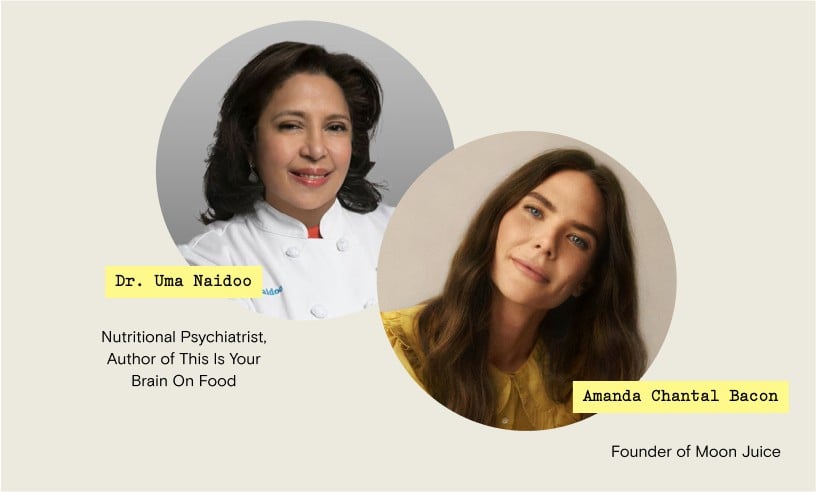 Watch the full interview here or listen below.
$10 off + free shipping
Unlock tips, tricks, recipes, and rituals