What's the deal with Fluoride? Can you reverse a cavity? When is it appropriate to get a root canal? Amanda chats with biological dentist Dr. Leedia Riman. They talk through mouth breathing, tongue and lip ties, wisdom teeth removal, and supporting dental health in pregnancy and perimenopause.
Curious about a specific topic? Here's what they cover:
Cavities in kids (2:25)

How can you reverse a cavity (3:40)

5 pillars of dental health (4:25)

Oral microbiome (4:50)

Mouth breathing (6:00)

Ozonating your water (9:20)

Anatomy of teeth (12:25)

Each tooth is like an organ (13:30)

Which cavities are healable (14:04)

6 month cleanings aren't a thing (14:50)

You can teach a monkey to drill and fill (16:30)

Supplements for teeth (17:05)

Tooth resilience (18:10)

How stress affects teeth (18:50) 

When cavities aren't reversible (19:30) 

Lifestyle healing for teeth (21:10)

Pregnancy, nursing, and teeth (21:50) 

Breastfeeding nutritional requirements (23:35) 

Psychological effects of breastfeeding without support (25:25)

Pregnancy dental care and support (27:00)

Sex hormones and teeth (29:40)

Your mouth is similar to your vagina (30:00)

Perimenopause and teeth (31:50)

Gingivitis (32:30) 

Root cause of crooked teeth (33:20)

Excessive relaxin (33:40)

Losing enamel (35:25)

Gum recession (36:40)

Causes of teeth grinding (37:18)

Night guards and orthodontia (39:15) 

What to look for in an orthodontist (42:30) 

Nuances of night guards (44:45)

Tongue and lip ties (45:30) 

Releasing tongue ties in adults (46:30)

Fascia (47:25)

Ideal tongue position (47:55) 

Is teeth whitening safe (50:13) 

Different types of bleaching (52:55)

Fluoride (56:23)

Fluoride alternatives (1:00:13)

Sealants (1:02:53)

Tongue scraping (1:04:13)

How to choose a tongue scraper (1:05:23)

What your tongue should look like (1:06:58) 

Best toothbrush (1:07:23)

Change your bristles every 8 weeks (1:08:43)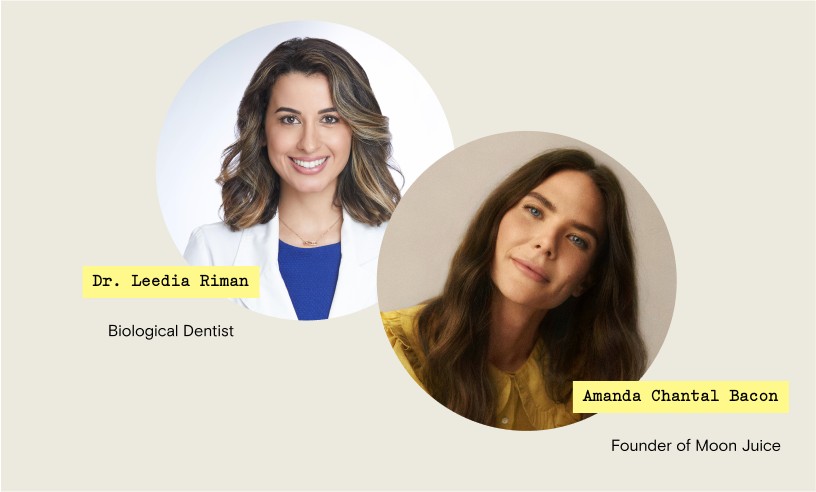 Watch the full interview here or listen below.
$10 off + free shipping
Unlock tips, tricks, recipes, and rituals