How can you biohack your orgasm? What does bleeding with the new moon mean? What are the best supplements for sperm health? Amanda chats with Alisa Vitti, HHC, AADP, is an integrative nutritionist, hormone expert, and best-selling author of WomanCode. They talk through the 4 phases of the menstrual cycle and how they impact metabolism, hormones, and libido, how ovulation builds health, what to expect in perimenopause, and the truth about synthetic birth control.
Curious about a specific topic? Here's what they cover:
Bleeding with the full moon vs new moon (0:42)

How light pollution affects our hormones (3:45) 

Stress and hormones (6:55)

How stress disregulates the cycle (8:45)

Alisa's favorite stress buffers (11:23)

Tablestake micronutrients for the endocrine system (13:55)

Correlation between infertility and Vitamin D (15:00)

How biohacking can be harmful for women (16:45)

Caffeine on a empty stomach (19:48)

Caffeine toxicity, PCOS, PMDD, and fibroids (21:45)

How blue zones consume caffeine (22:25)

Male infertility (25:32)

How endocrine disruptors affect men (27:47)

Steps men can take to support fertility (30:00)

Planning around the cycle (34:50)

How metabolism changes throughout the cycle (35:50) 

Stop eating the same thing everyday (37:05)

The biology of an orgasm (42:50)

The health costs of being sexually dissatisfied (44:40) 

Libido changes throughout your cycle (46:00)

Libido sourced from hormones vs uterus (47:00)

Orgasm vs climax (49:40)

Tumescence (50:10)

How to make the most of your orgasmic plateau (51:50)

Nitric oxide practice (53:55)

Erectile tissue in the vulva (58:20)

The age of the female orgasm (1:02:02)

Anatomy of menstrual blood (1:05:02)

The future of supporting female biology (1:09:30) 

When does perimenopause start (1:16:00)

Daily practices for perimenopause (1:20:45)

Workouts for perimenopause (1:26:30)

Brain and libido changes during perimenopause (1:27:00)

How postpartum and perimenopause are similar (1:28:30)

Andropause (1:29:55)

Vaginal dryness during perimenopause (1:31:50) 

Slow transition to perimenopause (1:33:55)

Connection between PMS and perimenopause symptoms (1:35:42)

How bad is birth control really (1:36:55)

Health benefits of ovulation (1:38:55)

How birth control affects micronutrients and gut (1:42:00)  

Does birth control alter your pheromones (1:44:04)

Fertility management 101 (1:50:25) 

Phexxi (1:54:00)

Neem oil for contraceptive (1:59:35) 

How to get off birth control (2:01:50)

How to bring back zero libido (2:08:30) 

Accelerated hormonal aging in women (2:10:45)

What Alisa will be doing post-menopausal (2:14:10)

Sex drive should increase as we age (2:14:55) 

What hormones cause melasma (2:16:53) 

Top tips to support the liver (2:18:49)

Rebalancing hormones after birth, miscarriage, and abortion (2:19:40)

Impact of postnatal depletion on perimenopause (2:22:20) 

Chin hair (2:26:45)

PMDD (2:28:30) 

Is there a benefit to free bleeding (2:31:50) 

Mittelschmerz (2:34:55)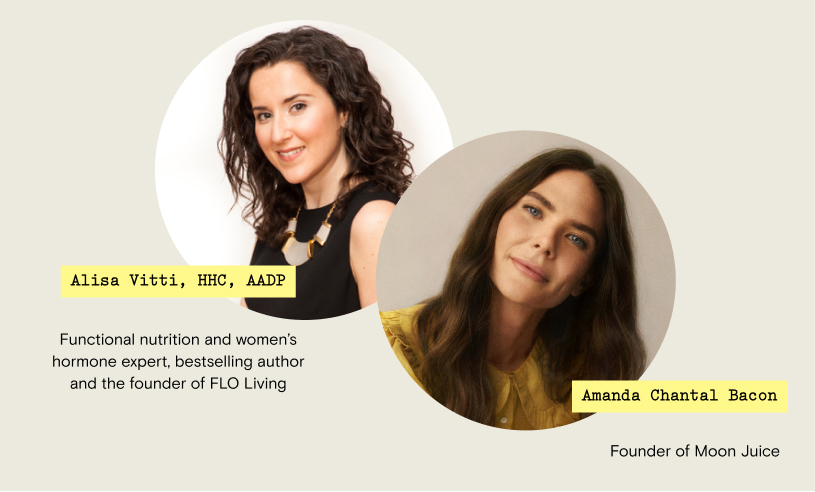 Watch the full interview here or listen below.
$10 off + free shipping
Unlock tips, tricks, recipes, and rituals