How do you know if you're a candidate for microdosing? Can MDMA therapy help heal trauma? What are the long-term impacts of SSRIs? Amanda sits down with Will Siu, MD, DPhil, psychiatrist, speaker, and educator. They talk through the root cause of anxiety and depression, the differences between plant-based and lab-made psychedelics, and connecting with spirit guides.
Curious about a specific topic? Here's what they cover:
Will's background and story (1:00)

Western psychology (3:00) 

Unlearning Western medicine (5:40)

Key to transformation (9:25)

Jung vs Freud (10:25) 

Commonalities between Jung and Freud (12:30)

Differences between Jung and Freud (13:08)

Role of dreams (13:36) 

Patient-therapist relationship (14:38) 

Pathology vs explorative therapy (16:00) 

Realm of doctor spirits (20:40) 

Time, space, matter (23:00)

We all have helpers (26:10) 

Ayahuasca spirit guides (31:00)

Spiritual artistry (32:30)

Root of anxiety, depression, anorexia, ADHD, suicidal thoughts (36:35)

5 basic emotions (41:05)

How we teach children not to feel (41:40)

Experiencing suppressed emotions (42:30)

Non-specific amplifiers of the unconscious (43:38) 

Psychedelics are not a magic bullet (44:20)

What makes a guide helpful (45:35)

MDMA's heart-centeredness (47:08)

Walkthrough of the major psychedelics (47:50)

Sources of human suffering (50:45)

MDMA for healing relationships (51:20)

DMT for deep connection (52:25)

Plant spirits (56:00)

Ergot (fungus) derivatives (59:50)

Plant vs synthetic lock and keys (1:00:15)

Ketamine doesn't exist in nature (1:00:40)

Amanda's "non" Ayahuasca experience (1:02:20)

Macro experiences (:10:50)

Microdosing (1:15:15) 

Know why you're doing it (1:16:15)

You can't microdose MDMA (1:18:00)

What is a microdose (1:20:15)

Are marijuana, sugar, and caffeine psychedelics (1:21:35)

Things can go wrong (1:23:00)

Missing the elders and mentors (1:24:00)

How to find your microdose (1:26:10)

Key to healing (1:29:33)

Who is not a candidate for psychedelics (1:33:50) 

How medications interact with psychedelics (1:38:20) 

Serotonin syndrome (1:40:00)

Impact of SSRIs on the brain (1:41:15)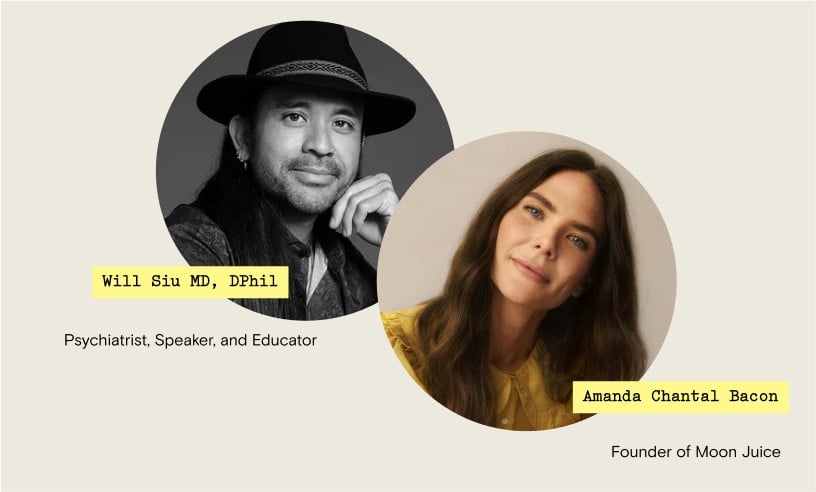 Watch the full interview here or listen below.
$10 off + free shipping
Unlock tips, tricks, recipes, and rituals