What's leaky skin? Does stress cause sensitive skin? What's the root of rosacea? Amanda chats with Dr. Keira Barr, dual-board certified dermatologist, menopause specialist, and author. They talk through the gut-brain-skin connection, supplements for accelerated aging, and what causes clogged pores.
Curious about a specific topic? Here's what they cover:
Holistic vs allopathic healing (2:38)

Gut-brain-skin connection (3:25)

How stress and skin are intertwined (6:09)

Chronic stress (6:59)

Why do we break out when we're stressed (9:30)

How cortisol accelerates aging (11:00)

How stress messes up your hormones (11:44)

Stress and menopause (12:44)

Inflammaging (13:35)

Skin and sleep (15:45)

UV light effects on the skin (19:02)

Leaky skin and acid mantle 101 (20:28)

Sensitive skin (22:04)

How trauma impacts skin (27:18)

Relationship between chronic stress and skin cancer (30:52)

Approaching skin disorders with compassion (32:35)

Do women experience skin issues more than men (35:50)

Hair loss and thinning (37:17)

Anagen effluvium and postpartum hair loss (40:55)

Signs of accelerated aging (42:05) 

Gylcation (47:42)

Are scalp scrubs helpful or harmful (52:38) 

Rosacea (56:04)

Lasers and micro needling (59:45)

Can lasers and micro needling be used preventively (1:05:25)

Does laser hair removal cause skin cancer (1:07:45)

Supplements for oxidative stress (1:08:32)

B Vitamins and Magnesium for acne (1:12:35)

Perma clogged pores (1:14:00)

Does SPF prevent Vitamin D absorption (1:15:25) 

Skin tags (1:16:40)

What skin care should we use as we age (1:19:50)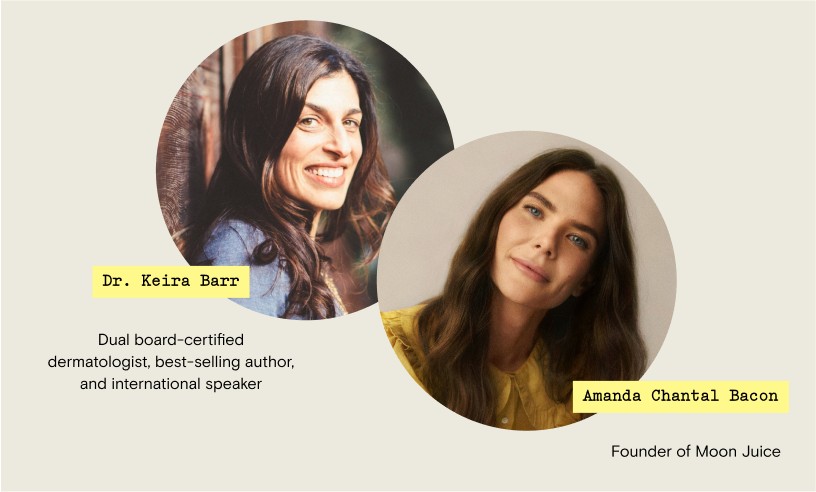 Listen to the full interview below.
$10 off + free shipping
Unlock tips, tricks, recipes, and rituals