What's false anxiety? Why the PMS rollercoaster? What causes depression? Amanda chats with Ellen Vora, MD, board-certified psychiatrist, acupuncturist, and author of the bestselling book The Anatomy of Anxiety. They unpack the root causes of anxiety, like estrogen dominance, inflammation, and sleep disruption, and share ways to address these biological imbalances. Dr. Vora explains anxiety's role in postpartum and perimenopause—plus, she challenges the cultural stigma around menstrual phases.
Curious about a specific topic? Here's what they cover:
Mini meditation (1:00)

What's wrong with how we think about anxiety today (3:01)

False anxiety (4:39)

True anxiety (5:20)

Quick wins (8:00)

How gut messes with intuition (10:10)

Cycles, emotions, and mysogyny (12:40)

True component of luteal phase (14:20)

Estrogen dominance and PMS (15:14)

3 steps to remove estrogen dominance (17:13)

Tap water (18:50)

Opening up drainage pathways (19:40) 

Maintaining healthy progesterone levels (20:10) 

Amanda's experience with Covid and PMDD (21:48) 

Covid and menstruation (24:15)

Brain inflammation and mood (25:50) 

How to fight inflammation (26:40)

Brain fog (31:00)

Cytokine hypothesis (32:25)

Immune dysregulation (35:20)

Main disregulators of immune activity (36:50) 

Infrared sauna Rx (40:25)

Going through it to help others (43:00)

Passion and purpose (45:00)

Joy and sensuality (49:00)

Dr. Vora's experience with disordered eating (50:30) 

The clash of diet positivity and wellness (52:15)

Root of eating disorders (54:00)

Drug-like foods (56:00)

Push against diet culture and big food (57:41)

Postpartum sleep (58:50)

Mr. fix its for sleep (1:00:25)

Revenge bedtime procrastination (1:01:35)

Taking your time back (1:03:20)

How to stop the bedtime scroll (1:04:40)

When Mr. fix its don't work for sleep (1:06:06) 

Sleep training (1:08:00) 

Normalizing and supporting postpartum moms (1:11:33)

Postpartum anxiety (1:12:55)

How nutrition can trigger postpartum anxiety (1:14:45)

When your body's check engine light is on (1:17:20)

GABA (1:19:10)

How alcohol affects anxiety (1:20:20)

Glymph and lymph (1:22:10)

The relationship between age and anxiety (1:24:10)

Top supplements for false anxiety (1:26:00)

Melatonin (1:29:45)

Perimenopause and anxiety (1:30:50)

Hormone therapy for perimenopause (1:32:45)

Dr. Vora's PCOS journey (1:33:25)

PCOS triggers (1:35:05)

Optimal wellness isnt the goal (1:37:40)

Vasovagal fainting (1:44:04)

Vagal toning (1:48:50)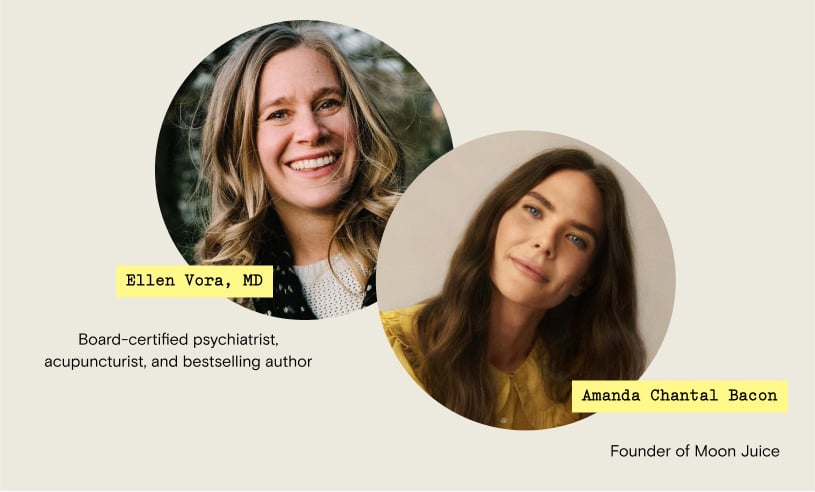 Watch the full interview here or listen below.
$10 off + free shipping
Unlock tips, tricks, recipes, and rituals