Why is being seen so sexy? Does manifestation work? What's the deal with Mercury Retrograde? Amanda sits down with Jennifer Freed, PhD, psychological astrologer, social and emotional education trainer, and best selling author of Use Your Planets Wisely. In their conversation, Jennifer Freed talks through all aspects of the astrological chart, from sun and moon to love languages, plus a glimpse into what 2023 has in store.
Curious about a specific topic? Here's what they cover:
Where to get a free natal chart (0:40)
Dr. Freed's psychology background (2:45)
AHA! organization (4:00)
Patterns in therapy (6:00)
Patterns amongst couples (6:55)
Patterns in teenagers (7:40)
The big 3: sun, moon, rising (9:40)
Amanda's basic identity (11:25)
How to understand sun vs rising (13:10)
Walk through of the planets (14:00) 
Deep and true listening (16:30)
Jennifer's recipe for listening (18:05)
Listening in dating (20:45)
Fragilism vs advocacy (23:00)
What happens when you're activated (25:00)
It's normal to get activated in relationships (27:05)
8 stages of relationships (27:40)
Self-work in relationships (34:50) 
When the lusty sexy part fades (35:40)
Hack for falling in love with yourself (37:00)
Activation of personality (38:50)
Resisting being human (41:00)
Learning how to bring heaven to earth (41:25) 
Dr. Freed's interpretation of Moon Juice (42:00)
How to hold your joy (43:00) 
Empathy vs sympathy (44:30)
Manifestation hacks (45:00)
Correlation between material things and happiness (49:15) 
Shadow side of manifestation via the elements (51:05)
Stress and soothing via the elements (54:40) 
Love languages via the elements (1:00:30)
Subtle sexual field (1:05:00)
How to ask for what you want (1:07:50) 
Intimacy is a joint effort (1:09:20)
Mercury retrograde is time to slow down (1:10:20)
New moon (1:11:05)
Predictions for 2023 (1:11:50)
Sacred crew (1:13:30)
Staying authentic as a Scorpio rising without being too negative (1:14:30)
How to stay in place as a Saggitarius (1:16:05)
Astrocartography (1:17:10)
Which house represents the shadow (1:17:50)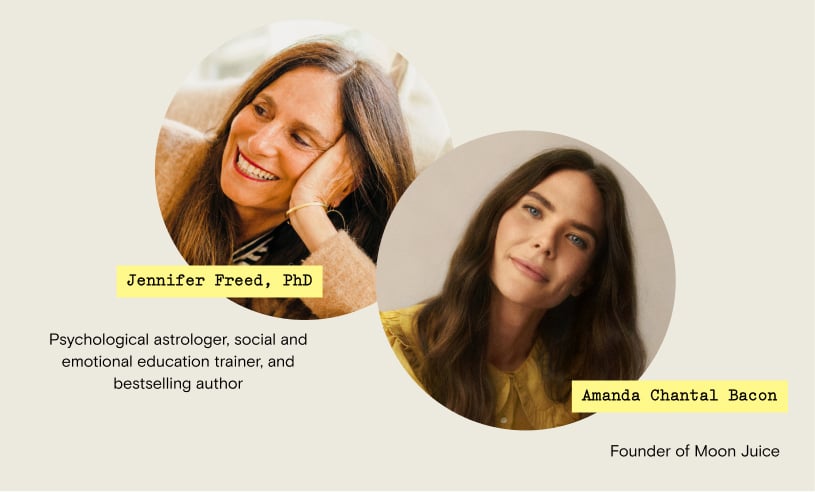 Watch the full interview here or listen below.
$10 off + free shipping
Unlock tips, tricks, recipes, and rituals