What to do when dry brushing doesn't work? Why is my face always puffy? What's the deal with glymph? Amanda chats with Lisa Levitt Gainsley, certified lymphedema therapist and manual lymphatic drainage practitioner who has been studying the lymphatic system for 30 years. They talk through why cold plunging isn't for everyone, the relationship between breast implants, root canals, tattoos and the lymphatic system, and sneaky signs of sluggish lymph (hint: eczema).
Curious about a specific topic? Here's what they cover:
Lisa's lymph journey (0:45)

Different lineages of lymphatic work (3:55) 

What is lymph (6:30)

Superficial vs deep network of lymph (7:55)

Lymph organs (10:10)

Signs of sluggish lymph (12:15)

Eczema (14:50)

Deodorant (15:40)

How to mitigate stress (17:10)

How stress affects lymphatic flow (21:00)

Lymph and nervous system (23:05)

Amanda's lymph journey (25:20)

Don't forget to massage lymph nodes (29:50)

Bringing vacation vibes into your weekly life (31:45)

Glymph (34:55)

Glymph and mood (35:20)

Massaging skin-on-skin vs oil (38:10)

Autoimmunity (42:10) 

Manual vs machine vs sonar vs cupping (45:20) 

What it feels like when lymph moves (51:30)

Breast lymph (53:15)

Daily things to move lymph (that aren't massage) (54:10)

Keep the systems of the body moving (59:30)

Extreme temperatures (1:01:10)

Supplements for lymph (1:07:30)

Amanda's daily vitamin regimen (1:10:05)

Chronically slow lymph (1:12:10)

Puffy face (1:13:10)

Bloating (1:14:45)

Compression-wear (1:17:10)

Why some results don't last (1:20:20)

Top lymph offenders (1:22:15)

Can lymph regenerate (1:24:00)

Breast implants (1:25:25)

Root canals (1:27:30)

Tattoos (1:29:33)

Puffy face lymph massage how-to (1:31:45)

Wine massage stroke (1:42:30)

Where to start for beginners (1:43:10)

Armpit massage (1:45:10)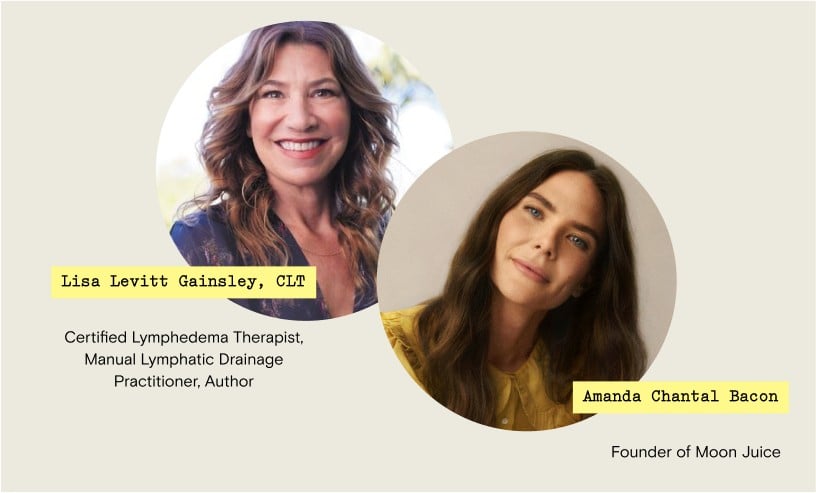 Watch the full interview here or listen below.
$10 off + free shipping
Unlock tips, tricks, recipes, and rituals