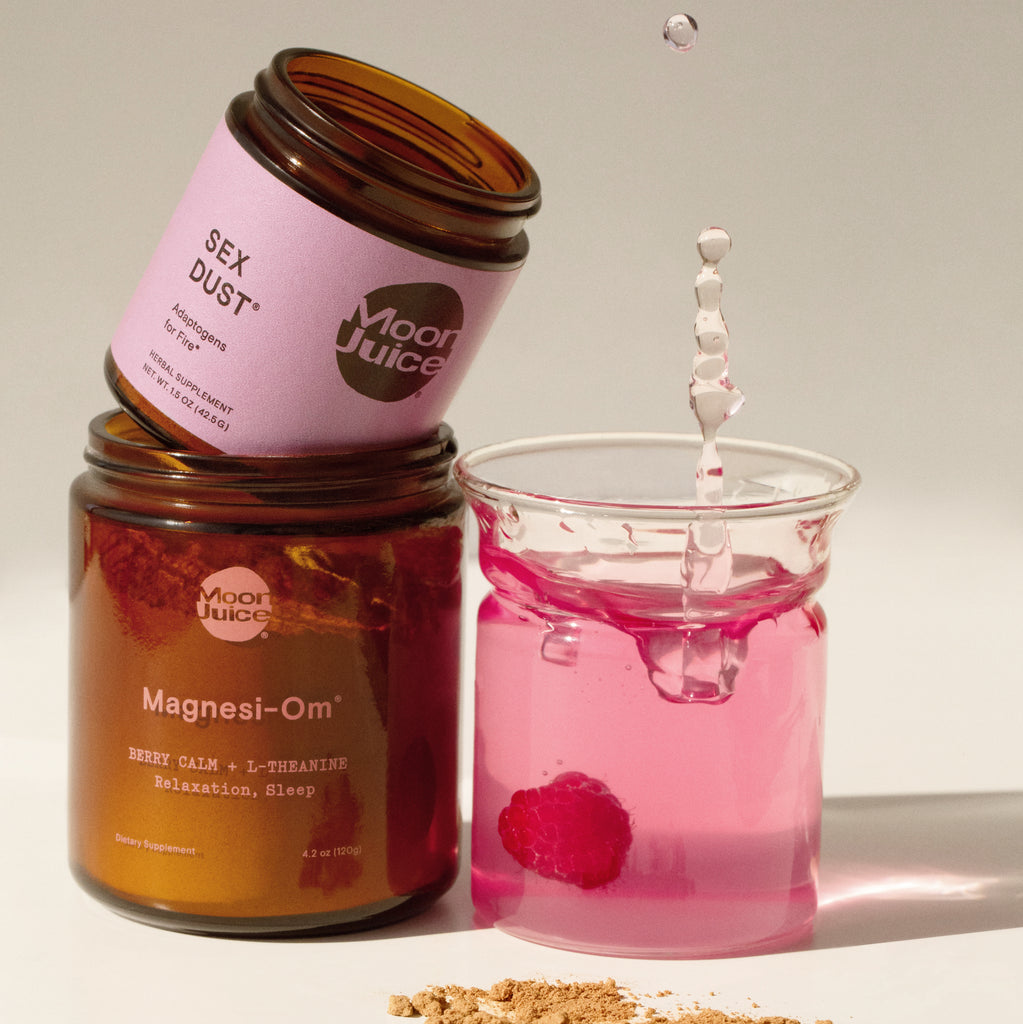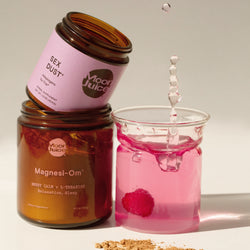 Sex + Sleep Stack
Sex Dust
®

& Magnesi‑Om

®

for hormonal balance, libido, relaxation & sleep.

Your turn-on tonic and pink nightcap. Sex Dust® your daily bev for healthy hormonal balance and libido.* Magnesi‑Om® in water nightly for relaxation and sleep.*

Sex Dust® is a stimulating blend of adaptogens and herbs that target stress to support healthy hormonal balance, libido, and creative energy.* Informed by Traditional Chinese Medicine and Ayurveda, this natural libido supplement combines Shatavari, Shilajit, Epimedium, Schisandra, Cacao, and Maca.

Magnesi-Om® contains 3 bioavailable forms of Magnesium plus L-Theanine to help restore cellular balance for relaxation, sleep, brain health, and regularity.* Chelated Magnesium Gluconate and Acetyl Taurinate support muscle relaxation and cognitive function, while Magnesium Citrate supports regular bowel movements.* L-Theanine promotes alpha‑wave activity in the brain, shown to encourage a focused calm.*

Sex Dust®
+ Shatavari supports healthy hormonal balance and juiciness*
+ Wildcrafted Shilajit traditionally used as an aphrodisiac and libido booster*
+ Organic Epimedium aka "horny goat weed", helps ignite desire and strengthen sensation*
+ Organic Schisandra known for its ability to increase blood flow and energy*
+ Organic Cacao stimulates endorphin release*
+ Organic Maca known to support mood, energy, and healthy sexual function*
Magnesi-Om® helps:
+ Relaxation enhances feelings of calm, improves mood, reduces muscle aches*
+ Brain Health supports healthy cognitive aging and brain function*
+ Regularity supports regular bowel movement, soothes and alleviates mild bloating during PMS*
Sex Dust®
Smoky cacao flavor – pairs well with coffee, chocolate, tea & milk; or add to any smoothie. Blend 1 tsp of this natural libido supplement per serving.
Magnesi-Om®
1 tsp in water every night or when you need to chill.
Sex Dust®
Organic Cacao Powder, Shilajit Extract, Shatavari Root Extract, Organic Epimedium (Horny Goat Weed) Leaf Extract, Organic Maca Root Extract, Organic Schisandra Berry Powder, Organic Stevia Leaf Extract (Reb A)
Magnesi-Om®
+ Magnesium Chelate Blend (Gluconate, Acetyl Taurinate and Citrate) specifically chosen due to their high bioavailability and easy absorption into the gut with minimal discomfort*
+ L-theanine in our magnesium supplement helps provide cognitive support for feelings of alert relaxation and mental clarity without over-stimulation*
Other Ingredients Natural Mixed Berry Flavor, Citric Acid, Monk Fruit Extract, Beetroot Juice Powder (Color)
45-day money back guarantee