What's the deal with dandruff? Is scalp scrub safe? How should we shampoo? Amanda chats with Bridgette Hill, certified trichologist and scalp therapist. In their conversation, they talk through all forms of hair loss (male, postpartum, perimenopause), how to tell the difference between product buildup or dehydration on your scalp, and why keratin treatments don't actually work.
If you're struggling with hair loss, an unhealthy scalp, or simply want to strengthen your hair, check out our hair supplement at Moon Juice today. SuperHair is a hair supplement plus a multivitamin that can help strengthen your hair by creating a healthy environment for hair growth.
Curious about a specific topic? Here's what they cover:
Hair loss 101 (1:54)

Telogen effluvium (2:25) 

Anagen effluvium (2:48)

Inflammatory hair loss (3:25) 

Your hair is your fabric (4:32)

What is hair health (4:54) 

What causes effluviums (5:30)

Dry cleaning your fabric (6:45)

Cultural reverence for hair (9:45) 

Hair health as spiritual health (10:35) 

The individuality of trichology (16:25)

Shampoo as ritual (17:20)

Get intimate with your scalp (18:34) 

Bridgette's autoimmune hair journey (19:43)

Root causes of effluviums (23:00)

Telogen effluvium deep dive (23:50)

Supplements for telogen effluvium (24:45)

Anagen effluvium deep dive (25:50)

How to know if it's an effluvium 26:50 

How to tell if your body is in a functioning hair growth cycle (28:00)

Menopausal hair loss (29:35)

DHT and genetic hair loss (32:05) 

Saw Palmetto (32:50)

Vitamin D for anti-inflammation (33:40)  

Reduction of Keratin over time (34:45)

How to support Keratin production (36:20)

We have Keratin on our scalps (36:50)

Habits that help retain Keratin (38:10)

How to properly shampoo (40:20)

Shampoo doesn't clean your scalp (42:00)

Amanda's

hair care

journey (45:20)

Is shampoo necessary (47:20) 

Male hair loss (49:30)

Preventing male hair loss (53:35)

What do you want in a topical (55:00)

Sources of oxidative stress for hair (57:20)

Truth about scalp scrubs (59:20)

Acids for scalp (1:02:10)

General scalp health (1:05:30)

Scalp build-up (1:06:13)

Managing dandruff (1:07:10) 

Wet dandruff (1:08:20)

Psoriasis (1:12:40)

Eczema (1:13:27)

Dandruff vs wet dandruff vs dry scalp (1:14:15)

Build-up from product (1:15:35)

How to treat scalp conditions (1:17:55)

DIY pre-shampoo scalp treatment (1:19:00)

Cradle cap in older children (1:20:20)

Preventative measures for postpartum hair loss (1:23:25)

Continuous shedding is a nutritional deficiency (1:24:15)

Can alopecia hair loss grow back (1:25:50)

Hair growth after cancer hair loss (1:27:15) 

Heavy metals and hair loss (1:28:30)

PCOS hair loss (1:29:37)

Short anagen syndrome (1:30:20)

Grey hair (1:32:05)

How often should you wash your hair (1:36:10) 

Should we be brushing (1:38:10)

ACV and baking soda (1:40:20)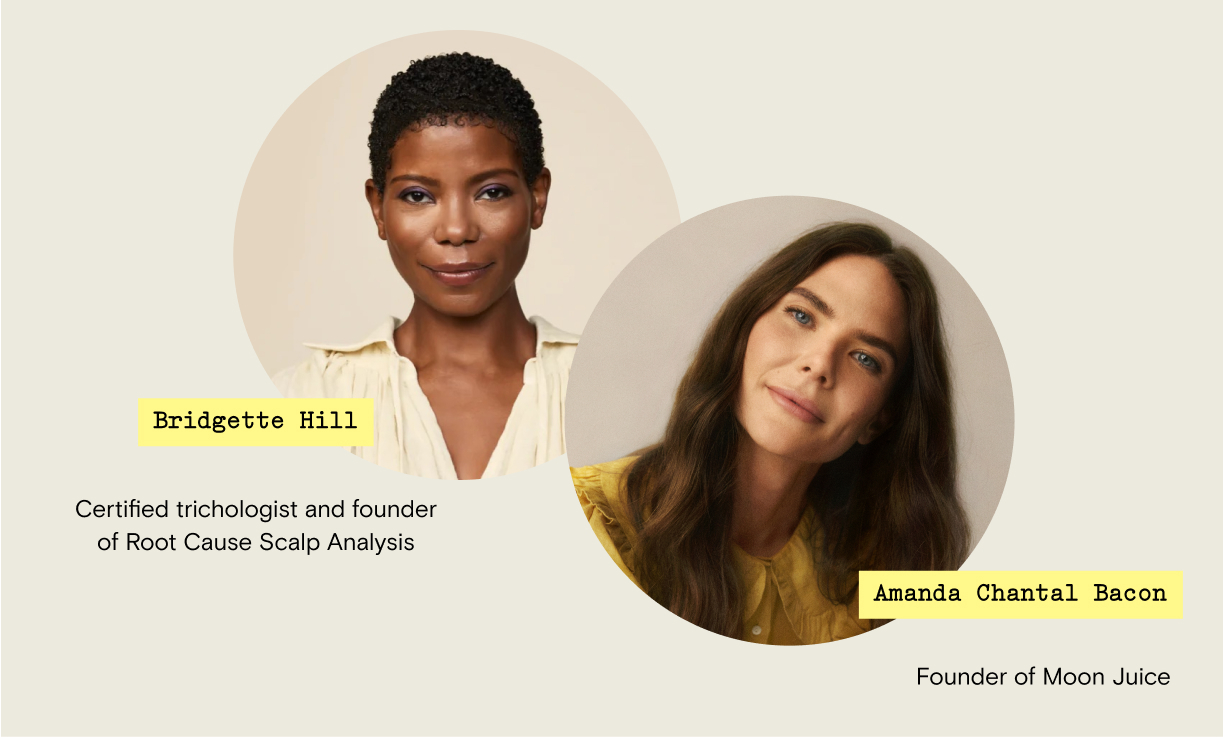 Watch the full interview here or listen below.
$10 off + free shipping
Unlock tips, tricks, recipes, and rituals