Fever-phobia. Two common things in your home that lead to leaky gut. How to nurture your child's vagus nerve. Amanda sits down with Elisa Song, MD, holistic pediatrician and founder of Whole Family Wellness. They talk through the importance of supporting a healthy microbiome from birth, essential supplements to have in your at-home immunity toolkit, and how to make informed decisions around antibiotics and vaccines.
Curious about a specific topic? Here's what they cover:
Feverphobia (1:05)

Evolutionary role of fevers (1:40)

Why we have more fevers in winter (2:30)

Fever reducers (3:05)

Are fevers cleansing of cancer cells (4:35)

Link between fever reduction and influenza cases (6:05)

Can fevers cause brain damage (8:00)

Look at your child, not the temperature (10:05)

Can reducing fevers prevent seizures (11:30)

Fevers and meningitis (13:00)

Global antibiotic resistance (14:28) 

Over half of antibiotics written are for children (15:55) 

What don't antibiotics work for (17:13)

Antibiotics are the largest disruptor to your child's microbiome (19:00)

Antibiotic use and allergies (20:20)

What do we do if our kids are sick (22:15) 

Most harmful things for kids' microbiomes (22:45) 

Supplements to support immune health (25:00)

At-home toolkit for sickness (27:40)

Leaky gut (33:25)

How leaky gut leads to disease (37:00)

Expressions of leaky gut (asthma, allergies, autism, autoimmune, etc) (40:20)

Do fever reducers play a role in leaky gut (42:05)

Glutathione (43:05)

Covid vaccines for babies (44:30)

Long Covid in children (48:30)

How to make vaccines most effective (51:40)

Resources for routine kids vaccines (52:10)

Vagus nerve 101 (59:05)

Vagus nerve and parasympathetic (1:00:25) 

Vagus nerve and illness recovery (1:01:35) 

How to tone kids' vagus nerve (1:02:00) 

Love and kindness meditation for vagus nerve (1:03:43)

CBT for kids (1:05:18)

Stop, look, and listen meditation (1:05:58)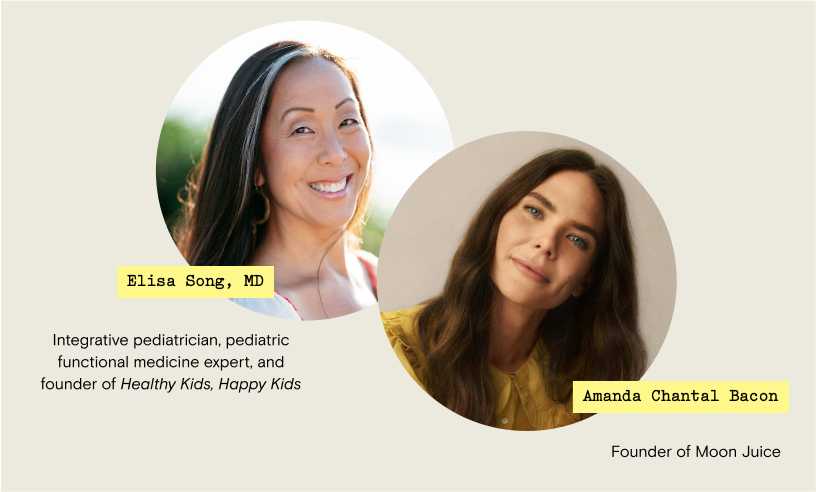 Watch the full interview here or listen below.
$10 off + free shipping
Unlock tips, tricks, recipes, and rituals